Call for participation: Share-Net Netherlands' Community of Practice on Youth & SRHR
Posted by Hannah Kabelka on January 11, 2021 at 1:36 pm
---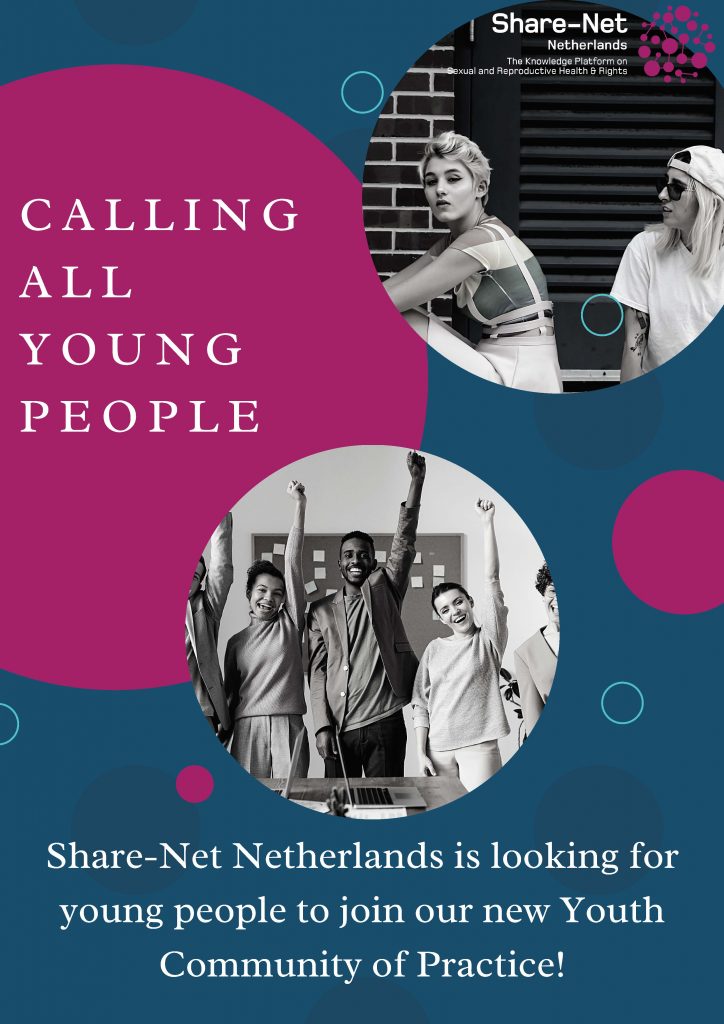 ---
Share-Net Netherlands is looking for young people to join our new Youth Community of Practice!
About
Share-Net Netherlands is the Dutch knowledge platform for Sexual and Reproductive Health and Rights (SRHR) and one of the country hubs of Share-Net International. Share-Net Netherlands is hosted by the KIT Royal Tropical Institute and has members from sectors including NGOs, universities, knowledge institutes, governmental and private sector which work in low- and middle- income countries and in the Netherlands with a focus on SRHR.
Moving into 2021, Share-Net Netherlands aims to commit further to the meaningful inclusion of young people within the network and would like to set up a new Community of Practice which consists of young people and focuses on youth SRHR as well empowering young researchers and professionals who are working in the field of SRHR.
What is a Community of Practice (CoP)?
The term "Community of Practice" is used to describe 'a group of individuals with shared interests that come together – in person or virtually – to tell stories, share and discuss problems and opportunities, discuss best practices, and review lessons learned. Communities of practice emphasise the social nature of learning within or across organisations.' Sharing knowledge among individuals and groups with common interests is nothing new but the concept of Communities of Practice has involved a stronger focus on social and organisational learning.
For the Youth & SRHR CoP, the work plan will be co-created with other CoP members in the initial meetings. Possible activities could include generating research or newsletter items, commission literature reviews, organise thematic meetings and webinars, develop fact sheets and infographics, networking and engage with other CoPs or engaging in fundraising opportunities together. Furthermore, the youth CoP will be responsible for selecting a youth representative for the SNNL Steering Committee and the whole CoP functions as a youth advisory board for the Dutch network.
Interested in Joining?
This CoP is open to:
People under the age of 30
Anyone with an interest in SRHR
Members based in the Netherlands (More information on how to become a member here)
If you would like to join this Community of Practice, please email Nicole Moran (n.moran@kit.nl) and Hannah Kabelka (h.kabelka@kit.nl) to let us know! We aim to kick start this group early in 2021. There is no closing date to indicate your interest to join!
Download the full call for participation here. 
---