Earth Day – Spotlight on Climate Activism
Posted by Bukola Daike on April 22, 2021 at 6:59 am
---

---
Happy Earth day!
Here at Share-Net we are celebrating earth day by shining a light on some of our favourite climate activists!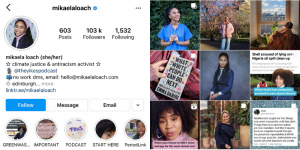 Mikaela Loach is a climate justice and antiracism activist based in Edinburgh. She uses her platforms on instagram and other social media sites to advocate for climate issues such as waste reduction, sustainable fashion and also racial justice. In addition to this she also co-hosts  @theyikespodcast with our next favourite activist, Josephine Becker.
Josephine Becker is a German climate activist whose work focuses on fighting against capitalist modes of consumption and degrowth. She is also co-host of @theyikespodcast where she and Mikaela along with their guests break down issues such as the climate crisis and racism in an accessible, intersectional and nuanced way.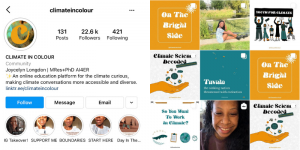 @climateincolour is in online education platform for the climate curious founded by Jocelyn Longdon. It seeks to make conversations about climate change more accessible and diverse. The page regularly posts on issues such as diversifying climate research, the green economy and the colonial history of climate.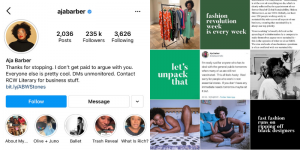 Aja Barber is a writer, stylist and consultant whose work deals with the intersections of sustainability and the fashion landscape.  Her work builds heavily on ideas behind privilege, wealth inequality, racism, feminism, colonialism and how to fix the fashion industry with all these things in mind.
Click here for resources on climate change & SRHR
---