Stories to Action – Social Media Internship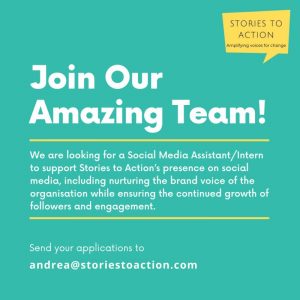 Stories to Action was founded in response to the ongoing COVID-19 pandemic and its impact on Sexual and Reproductive Health and Rights (SRHR) of young people all over the world. Stories to Action provide a safe and supportive platform to amplify youth's voices and catalyze action ensuring that their sexual & reproductive health & rights are guaranteed even in the light of public health emergencies like COVID-19. Our team quite literally spans the globe, with members being based in China, the Netherlands, Norway, the US, Brazil, India, Sweden, the United Kingdom, and Kenya.
Detailed Role Description:
The Social Media Assistant/Intern will support the Social Media Manager to  further develop Stories to Action's presence on social media, including nurturing the brand voice of the organisation while ensuring the continued growth of followers and engagement.
Together with the Social Media Manager you will schedule daily content for Facebook, Instagram, LinkedIn, and Twitter and monitor comments and messages from followers.
By joining our team of volunteers, you will be part of an effort to take meaningful action in response to COVID-19 and its impact on SRHR. We value diversity, and you will be working in a multicultural team.
We offer room for personal growth so if you have a strong spirit of entrepreneurship and want to be a changemaker, Stories To Action definitely is the right place for you. You will have the opportunity to know and work with young people, organizations, and institutions from all over the world and to reach out to different resources and networks.
Key tasks: 
Scheduling regular content in advance using Hootsuite
Creating visuals using Canva
Monitoring all channels for comments and messages from followers
Keep an eye on relevant international/world days and think of creative ways of linking it to Stories to Action content.
Qualifications: 
A burning passion for youth empowerment and sexual and reproductive health and rights (SRHR)
Excellent English skills – both reading, writing, listening and speaking (idiomatic level)
Previous experience working in development and/or at an NGO and/or at a startup is highly desirable
Relevant experience in social media and communications highly desirable
Candidate must have excellent organizational skills and be a proven team player with strong interpersonal skills and ability to work independently
Candidate must be responsive and be able to engage in regular communication with the team via Slack, available to attend a weekly team meeting, while also being flexible with meeting times across time zones
Your application
Application deadline is Friday 18th of June 23:59 CEST. Please, send us your CV with a motivation letter answering: 1. Why are you interested in joining Stories to Action? (max. 250 words); 2. Kindly indicate your weekly/monthly time commitment/availability in this job (max 100 words).
Send all application materials to andrea@storiestoaction.com. We're looking forward to hearing from you!