Member Spotlight: Chandreyi Guharay
Posted by Bukola Daike on July 8, 2021 at 10:58 am
---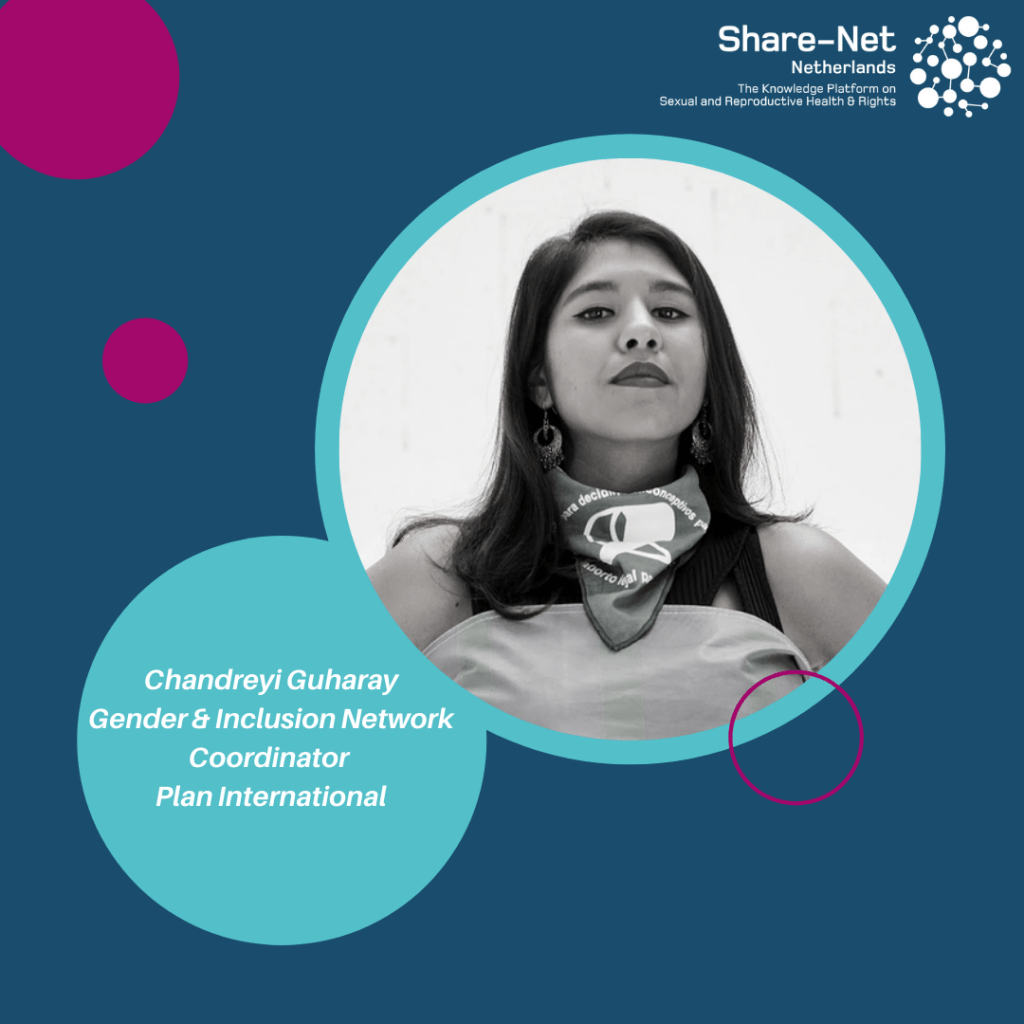 ---
'Member Spotlight' is our bi-weekly series bringing you stories and reflections from members of the Share-Net Netherlands network. We will be spotlighting the different ways they have been involved with the network and what the value of this has been for them. This week we are spotlighting our member, Chandreyi Guharay.  
Chandreyi Guharay is an intersectional feminist and the Gender & Inclusion Network Coordinator at Plan International. She is a member of the Share-Net Netherlands Community of Practice (CoP) for Youth & Sexual and Reproductive Health and Rights (SRHR) who values the unique opportunity to interact with and learn from like-minded individuals.
Chandreyi Guharay is a member of the Youth & SRHR CoP, however her involvement with Share-Net Netherlands (SN-NL) started long before this Community of Practice was established. Chandreyi – a passionate intersectional feminist and social justice activist – carried out a literature review with the Contraception & Abortion CoP that sought to provide an overview of current contraception and abortion trends in regions such as Latin America and the Caribbean, South Asia, and Sub-Saharan Africa. Coming to the Netherlands from Nicaragua in Latin America herself, which has very restrictive abortion laws, Chandreyi is particularly passionate about this topic. As a young professional and researcher who did not come from a formal SRHR background, she set out to undertake this literature review with a keen ambition to learn.  
When asked to characterize her experience writing this paper, Chandreyi describes it as "enriching" and, as she had hoped, "a big learning experience". Share-Net is a unique platform that promotes and facilitates learning synergies between our members. We want our members to broaden their networks and connect with and learn from other people. The unique nature of the learning opportunities we offer our members is a benefit that Chandreyi recognizes many people, especially young people, often "don't have access to in other places". When reflecting on what the learning opportunity she had through writing her literature review, Chandreyi muses that, "people coming from academia…people who are practitioners…and people who are in policy spaces providing me with feedback is a dialogue that is just very unique…".   
However, at Share-Net we not only aim to connect our members for learning, but to also promote opportunities for sharing with others. Thus, while the literature review may only provide a zoomed-out picture of the trends around contraception and safe abortion, Chandreyi's personal interest and passionate intersectional feminist activism has led her to share her findings in different way, both within and outside Share-Nets. Through Share-Net Netherlands' annual Linking Research Policy and Practice conference – where young researchers are given space to share their SRHR-related research – Chandreyi was able to share the findings of her literature review with non-governmental organisations (NGOs) and policy makers. Additionally, in September 2020, she wrote a short piece for the Youth Coalition's Safe Abortion Watchdog 2020 newsletter on the 'Global Gag Rule & The Fight For Abortion Rights Globally' and she was also able to share her learnings through the feminist collective for Latin American women and non-binary folk in the Netherlands 'Feministas en Hollanda'. Writing the literature review has allowed her to feel "a lot more informed to talk about abortion access and contraception", and, as an intersectional feminist, writing the piece challenged her to think about topics like reproductive justice. This has inspired Chandreyi to not only learn about this important area of reproductive justice, but also share her learnings with the Youth & SRHR CoP – the opportunity she, as a young professional, finds invaluable for learning, discussing and understanding the issue.  
---