#SexWork in Europe: "We are still asking for the basic things: housing, work, and respect for our identities"
Posted by Bukola Daike on June 9, 2021 at 11:50 am
---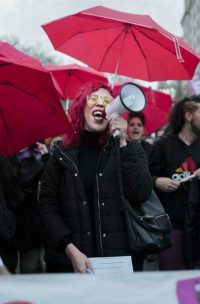 ---
To mark #InternationalSexWorkersDay on June 2, ILGA talked to Sabrina Sánchez, trans migrant sex worker based in Spain, on her journey, the pandemic and why sex workers rights are central to the LGBTI movement.
Sabrina Sánchez can say she's mostly happy. Happy and tired. Last month, she attended the Trans United Europe conference in Amsterdam, supported by the No One Left Behind fund from ILGA-Europe. Just before our conversation she was at another meeting and later on the same day, she's participating in an event organised by the Primavera Sound festival in Barcelona, the topic is "this sort of gentrification of sex workers' aesthetics in music". Finally, the Spanish Supreme Court has recently recognised the right of sex workers to unionise, thanks to the pledge of Spain's Sex Workers Organisation (OTRAS). All in all, Sabrina is satisfied, but she could also take some time off.
Before joining the International Committee on the Rights of Sex Workers in Europe (ICRSE) as Programs Officer, her routine was already very similar to that of an office worker. "Contrary to what people think about sex workers, that we are only, exclusively night creatures, I wake up very early," she says. "I have a breakfast, check my email. I try to go to the gym three times a week to keep in shape; it's part of the business, but also to feel okay with myself." Then, she may have an appointment with a client or may reply to questions from the sex worker's community, all while keeping up with her personal life, making plans with a girlfriend, maybe, for a day at the beach.
---