What we do
The Community of Practice on Contraception and Abortion organised it's first expert meeting in 2015 which aimed to review trends in abortion, barriers to access contraception, reflect on norms, values, perceptions on acceptability of contraceptives that can also be used as abortive method and to reflect on misconceptions among providers about use of abortion and contraception by women. The outcome of the Share-Net thematic meeting was a Policy Brief Addressing Women's Need for Contraception and Abortion.
In 2017 the CoP meet again in light of the Global Gag Rule. The aim of the meeting was to discuss recent developments and gain insights in the present political and funding climate for contraception and abortion, in the wider context of growing opposition against SRHR and women's rights. As well as to exchange lessons from operationalization into practice and generate guidance for overcoming barriers to access comprehensive contraception and safe abortion information and services in restrictive environments. You can read the report of the meeting via this link.
2018 was a busy year for the Communicty of Practice on Contraception and Abortion. To celebrate the first year of SheDecides, the CoP organised a social media campaign where Share-Net members shared their experiences on how SheDecides affected their work. You can check the SheDecides special edition of the Newsletter by using this link. In addition to that, the CoP organised the Launch of the Guttmacher – Lancet Commission report 'Accelerate progress – sexual and reproductive health and rights for all'. During the meeting, Ann Starrs, Chair of the Commission, presented the key elements of the report, including the new definition of integrated SRHR and the package of services it entails.
In 2020, the CoP commissioned a literature review carried out by a young researcher to provide an overview of current contraception and abortion trends on a global and regional scale, with a focus in three developing regions —Latin America and the Caribbean, South Asia and Sub-Saharan Africa. This work also presents the latest policy developments and financial trends around contraception and abortion services and supplies from 2015-2020 period. Have a look at the full literature review here.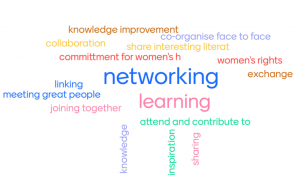 The word cloud above illustrates what this community means to its members.
CoP outlook 2021
In 2021, members of the CoP on Contraception & Abortion are committed to improving access* to contraception and safe abortion, by applying the principles and using the knowledge-generation, -sharing and -translation methods suggested by Share-net (see above). The CoP inspires thinking around and exchange of existing or new knowledge on contraception and abortion that contributes to knowledge and capacity building of its members and the wider Share-net community.  To achieve this, the CoP will monitor and signal (programmatic, scientific, political) developments in the SRHR field among its members, and create opportunities for reflection upon these developments.  In some cases, the CoP may take the initiative to generate knowledge to contribute to this ambition.
Furthermore, in 2021, the CoP will particularly focus on imminent political and policy decisions around the 'Global Gag Rule' (PLGHA), and its impact on contraception and abortion access, due to a new government administration in the United States of America, and around other developments elsewhere in the world.  These developments will be studied and discussed in light of previous work by the CoP, including the Literature Review on Global and Regional Contraception and Safe Abortion Trends (2015-2020) and against the background of COVID-19.  Knowledge sharing and discussion will take place within and beyond (through webinars or other platforms) the CoP.
Where there is overlap with other CoPs, the CoP on Contraception & Abortion will work with these other CoPs for knowledge exchange and to seek synergies in sharing of this knowledge.
* 'access' in the broadest sense: from a rights-perspective and looking at the entire ecosystem, i.e. demand, supply, enabling factors, etc.
Who we are
Odette Hekster (PSI-Europe)
Lindsay van Clief (Simavi)
Elly Leemhuis (Independent member)
Korrie de Koning (Independent member)
Judith Elena Butler (PSI- Europe)
Britt Kos (Dokters van de Wereld)
Annette Hoogerbrugge (Dokters van de Wereld)
Herman Ormel (KIT Royal Tropical Institute)
Lisa Juanola (KIT Royal Tropical Institute)
Saskia Husken (Rutgers)
Lucy Kaluvu (UMC Utrecht)
Myrrith Hulsbergen (Safe Motherhood)

Nicolette van Duursen (IPAS)
To contact us directly please write to Nicole Moran at n.moran@kit.nl.
CoP members can access their online working space on Mighty networks via this link (Share-Net Netherlands members only).
Resources on Contraception and Abortion
Click here for resources on Contraception and Abortion.
If you would like to submit resources on Resources on Contraception and Abortion yourself, you can do so via this submission form. Please make sure to include the original source of the resource in the content box.
---