What we do
The community of practice (CoP) working on sex work aims to inform sexual and reproductive health and rights (SRHR) and health professionals about the complexities of sex work policy, and how to respond to strong opposition in (inter)national spaces. We will explore the intersections of this topic with other SRHR themes, such as sexual health, HIV/AIDS and LGBTI-issues.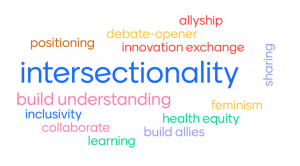 The word cloud above illustrates what this community means to its members.
CoP activities 2021
This new CoP aims to work in the first year of its existence on awareness raising activities by sharing and disseminating knowledge about the realities of sex workers and how sex work law and policy are shaping these realities through the Share-Net Netherlands platform. On September 15th, they organised an online meeting focuses on clarifying the complexities of the Dutch sex work legislation with the title: Everything is legal here, right? Realities of Dutch prostitution policy. In this blog, Nadia van der Linde (WO=MEN) captures the main takeaways from the session with speakers Jan Visser and Quirine Lengkeek (SekswerkExpertise), activists and an escort agency owner as well as Joep Rottier (independent researcher and formerly linked to Willem Pompe Institute for Criminal Law and Criminology). The blog will also be available in English shortly, stay tuned!
Furthermore, we have put together this resource where you can find additional links to further reading.
Who we are
Quirine Lengkeek (SekswerkExpertise)
Carolien Aantjes  (HEARD)
Nadia van der Linde (WO=MEN)
CoP members can access their online working space on Mighty networks via this link (Share-Net Netherlands members only).
To contact us directly please write to Bless-me Ajani at b.ajani@kit.nl!
Resources on Sex work
Click here for resources on Sex work.
If you would like to submit Resources on Sex work yourself, you can do so via this submission form. Please make sure to include the original source of the resource in the content box.
---