Our focus
A common question in relation to SRHR is the role of men and boys (men and boys covers male self-identified bodies, with diverse gender identities, sexual orientations, gender expressions and sex characteristics). The SN-NL Community of Practice (CoP) "Engaging boys and men in SRHR" is committed to address this question aiming at the improvement and realisation of sexual and reproductive health and rights for all, women, men, including people with diverse gender identities, sexual orientations, gender expressions and sex characteristics. To achieve sexual and reproductive health and rights for all people we recognize that gender inequalities are key determinants of health. All people are 'gendered' and hence their health, rights, sexuality and wellbeing are affected in different ways by existing gender norms and values, power dynamics, including heteronormativity. In many circumstances girls and women are more vulnerable than boys and men to SRHR concerns, but it is important to recognize boys and men's vulnerability to dominant patriarchal values and practices as well. Any effort to engaging boys and men should offer space to transform harmful masculinities into positive ones, as well as looking at boys and men's role in ensuring girls and women' access to resources/power to realise their SRH rights/human rights. 
What we do
We take into account intersectional aspects (i.e. age, ethnicity, socio-economic position) of gendered identities and how these different aspects affect people's access to power, rights and resources. We advocates for an approach that goes beyond instrumentalism but addresses harmful and risky male behaviour and limited perspectives on masculinity to promote diverse and healthy images of manhood. 
The CoP aims to strengthening the knowledge and capacities of professionals on engaging boys and men in a gender transformative manner by addressing underlying root causes related to prevailing power inequalities and rigid gender norms and practices.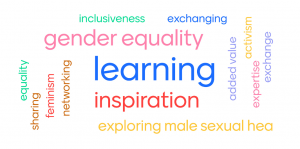 The word cloud above illustrates what this community means to its members.
CoP activities in 2021
The community of practice developed an internal glossary paper at the beginning of the year to define common terminology (e.g. gender-transformative approaches, intersectionality etc.).
Furthermore, at the heart of the CoP activities has been their work, together with intern Odhran McLaughlin, on a position paper that argues that men and boys have their own sexual and reproductive health issues and concerns. Addressing men's concerns will have a rippling effect through communities and the wider population, allowing achievement of SRHR for all.
Interested in learning more about the outcomes? On the 23rd of February 2022, the CoP invited all Share-Net members and the wider SRHR community to a dissemination event on the CoP's position paper on Men's SRHR in a webinar (see webinar report here).
Who we are
Jan Reynders (MenEngage)
Paul Janssen (Individual)
Jet Bastiani (PLAN)
Roanna van den Oever (Aidsfonds)
Demi van de Nes (Student member)
Lazarus Kontozopoulos (Individual)
Ajay Bailey (University of Utrecht)

Merette Ramses (Individual)

Odrhan McLaughlin (Student member)
To contact us directly please write to Bless-me Ajani at b.ajani@kit.nl!
CoP members can access their online working space on Mighty networks via this link (Share-Net Netherlands members only).
Resources on Engaging Men and Boys
Click here for Engaging Men and Boys.
If you would like to submit resources on Engaging Men and Boys yourself, you can do so via this submission form. Please make sure to include the original source of the resource in the content box.
---