Member Spotlight: Hadir Barbar
Posted by Victory on June 10, 2021 at 8:28 am
---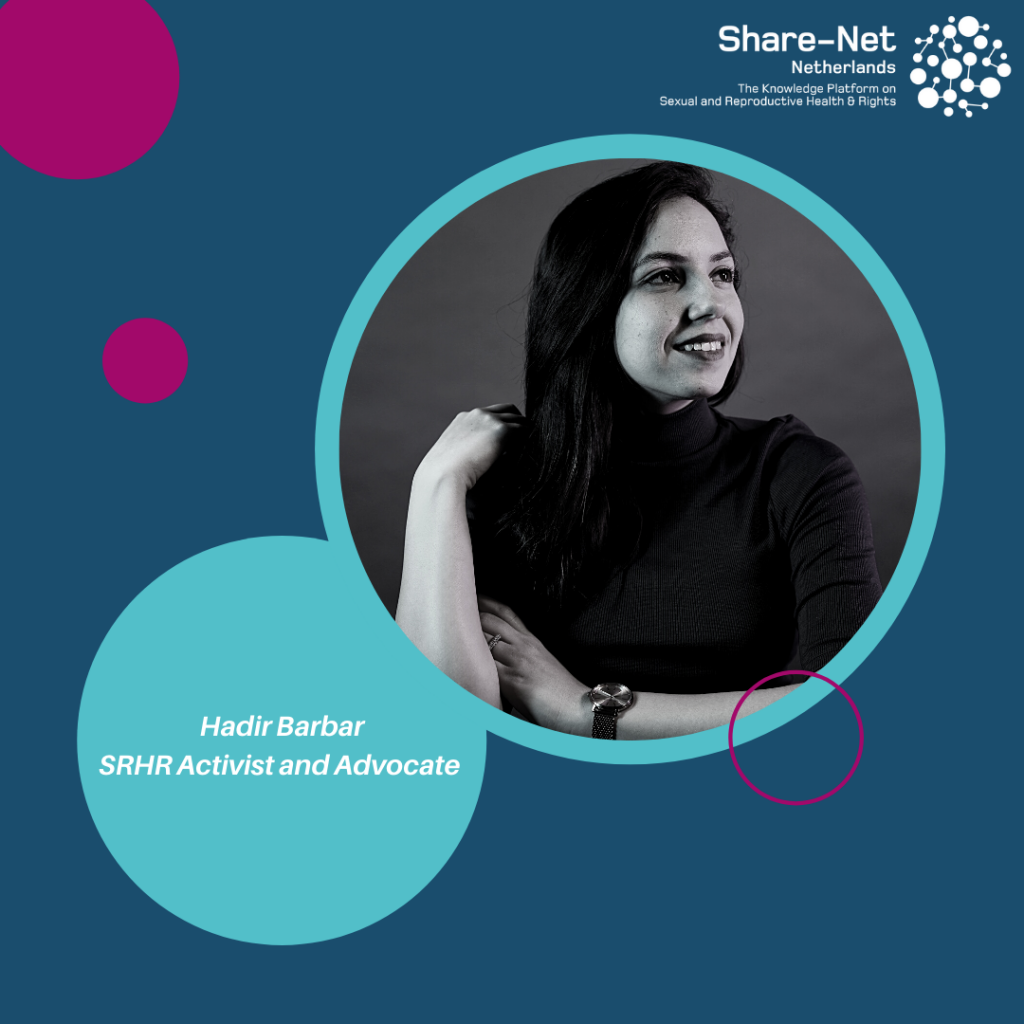 ---
'Member Spotlight' is our bi-weekly series bringing you stories and reflections from members of the Share-Net Netherlands network. We will be spotlighting the different ways they have been involved with the network and what the value of this has been for them. This week we are spotlighting our member, Hadir Barbar. 
Hadir Barbar is an Egyptian SRHR activist and advocate and individual member of Share-Net Netherlands who values the diversity in experience and having a space to show leadership, take initiative and express herself as a young professional. 
At Share-Net Netherlands (SN-NL), our members have a wide variety of experiences. Some members have been working in the field of sexual and reproductive health and rights (SRHR) for many decades while others are recent graduates who are beginning their professional journeys. Such a variety in experiences presents opportunities for knowledge exchange, mutual learning and intergenerational collaboration between our members. At SN-NL we are committed to facilitating these connections and supporting our members, particularly young researchers and professionals in the SRHR field. One of our members whom our network has supported is Hadir Barbar. 
Hadir, a passionate SRHR activist and advocate, is involved with several Share-Net Netherlands Communities of Practice (CoPs) such as the Gender-Based Violence (GBV) CoP and the Menstrual Health CoP. As part of the GBV CoP, Hadir voiced how the CoP supported her and opened the door for her to reflect on her activism and advocacy work. She has applied her experience in leading sexual harassment campaigns in Egypt by linking it to the work of this CoP. Hadir has also been the recipient of a Share-net International small grant which, in partnership with Joy Amani Center CBO, allowed her to organise the Menstruation Shouts project. This project aimed to explore and document the menstrual health experiences of frontline healthcare workers and adolescent girls during COVID-19  in Egypt and Kenya. They used creative and innovative digital storytelling videos to capture these experiences, and they were able to create informative fact sheets based on the menstrual health experiences of adolescent girls, a pertinent topic in the area of adolescents and youth SRHR. Hadir was also able to share her findings and recommendations about the menstrual health management experiences of adolescent girls in Egypt during SN-NL's 9th Annual Linking Research Policy and Practice conference. This conference gives young researchers in the field of SRHR a platform to share their research findings and recommendations with Non-Governmental Organisations and policy makers.  
Through her activism, advocacy and work, Hadir brings an enthusiasm and an important kind of expertise to the SN-NL network. However, as an alumnus of the Women Deliver Young Leaders Program, Hadir voices the need for "greater diversity in age and the involvement of more youth" in the CoPs she is part of.  Hadir recognises that "when everyone is given a space to express themselves" and when there is "balance between more experienced people and youth" this "allows everyone to learn from each other". With such reflections in mind we have officially established a new Youth & SRHR Community of Practice at SN-NL. This CoP consists of young people and focuses on youth SRHR as well as empowering young researchers and professionals who are working in the field of SRHR. Like many of our members, Hadir expresses support of the existence of this CoP: "the introduction of the youth CoP is good as It gives youth a space to have leadership, take initiative, and express themselves". Like in many of our other Communities of Practice, it also creates the space for interdisciplinary professional development, which Hadir concludingly notes "can be reflected in personal/professional and CoP work".  
Are you interested to learn more about the Menstruation Shouts project? Then please reach out to Hadir directly.    
Interested in Joining the Youth & SRHR CoP? Then please email Hannah Kabelka to let us know.  
Are you a young researcher? Keep an eye out for the call for submissions for our 10th Annual Linking Research Policy and Practice conference which will be released in our next newsletter! 
---