Pathways to Prevention: Ending Street Harassment in the Netherlands, Egypt and Belgium
Posted by Hannah Kabelka on March 31, 2021 at 12:50 pm
---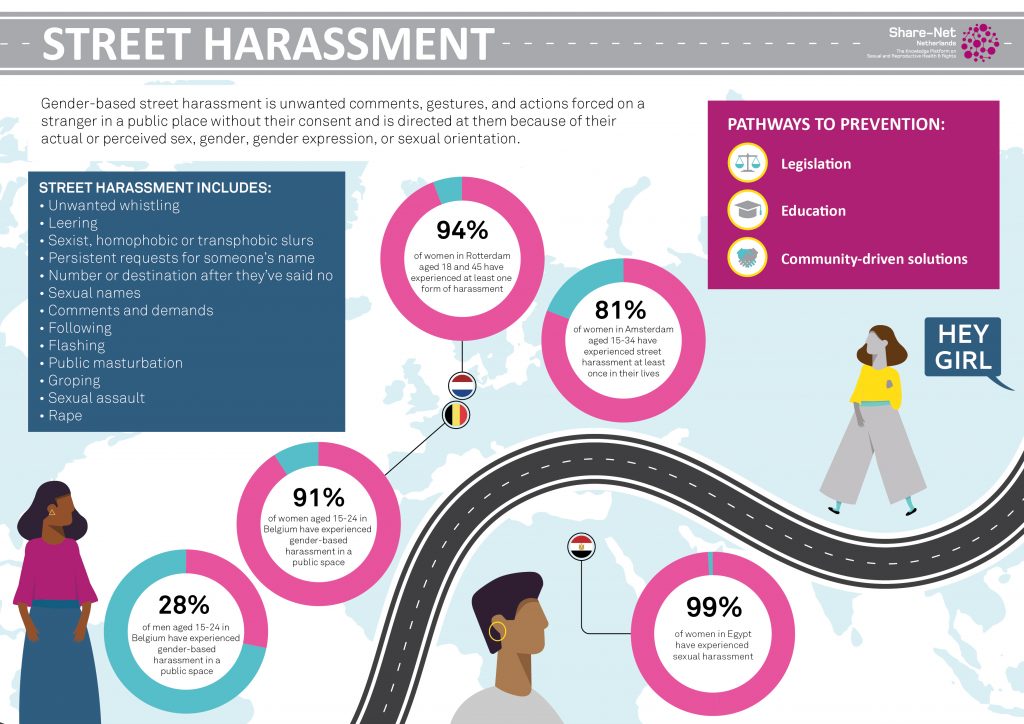 ---
Policy brief on street harassment
Compiled by the Share-Net Netherlands' Community of Practice on Gender-Based Violence
With contributions from Fairspace, HarassMap and Plan International Belgium
On December 17th 2020, Share-Net Netherlands organised a virtual meeting seeking to unpack the concept of street harassment. This meeting was organised by the Share-Net Community of Practice working on gender-based violence (GBV). Speakers from the Netherlands, Egypt and Belgium discussed the concept of street harassment, the implications of criminalising street harassment and best practices in preventing and ending this form of gender-based violence. Ending harassment requires a complex set of solutions. This policy brief unpacks the concept of street harassment and provides recommendations for Share-Net members and the wider SRHR community on how to effectively respond to and prevent street harassment.
Download the full policy brief here. 
Download the infographic here.
Key messages
Everyone has the right to move through public spaces freely and safely, without interruption, discrimination or violence.
When people are afraid to be themselves in public space, or feel unsafe because of unwanted attention or discriminating behaviour, it means their freedom of movement and bodily integrity are violated.
Besides sex and gender, people experience harassment because of their sexual orientation, race, religion, and disability.
Street harassment is a human rights issue which calls for a structural and effective response.
Barriers to reporting have hindered the effectiveness of legislation to curb harassment.
Legislation against street harassment remains weak if it is not supported with adequate resources to prevent it and a focus on behavioural and norm change.
Key recommendations
Prevention through legislation: tackling its barriers
Guarantee the privacy and safety of those who report street harassment
Apply an intersectional approach to street harassment
Clearly specify what actions are considered harassment and therefore punishable
Prevention through education: legislation against street harassment remains weak if it is not supported with adequate resources
to prevent it and a focus on behavioural and norm change
Include the topic of street harassment and healthy interactions in public space in comprehensive sexuality education
Recognize and support the power of social media and digital education to bring attention to street harassment and to denormalize such harmful behaviours and attitudes to engage young people in the topic
Use bystander intervention training to positively change attitudes and behaviours by increasing awareness of street harassment and responsibility to solve it
Prevention through community-driven solutions
Tailor interventions to specific locations and
co-create them with those most impacted
by street harassment in those areas
---