Further Reading: Everything is legal here, right? Realities of Dutch Prostitution Policy
Posted by Victory on October 6, 2021 at 5:59 pm
---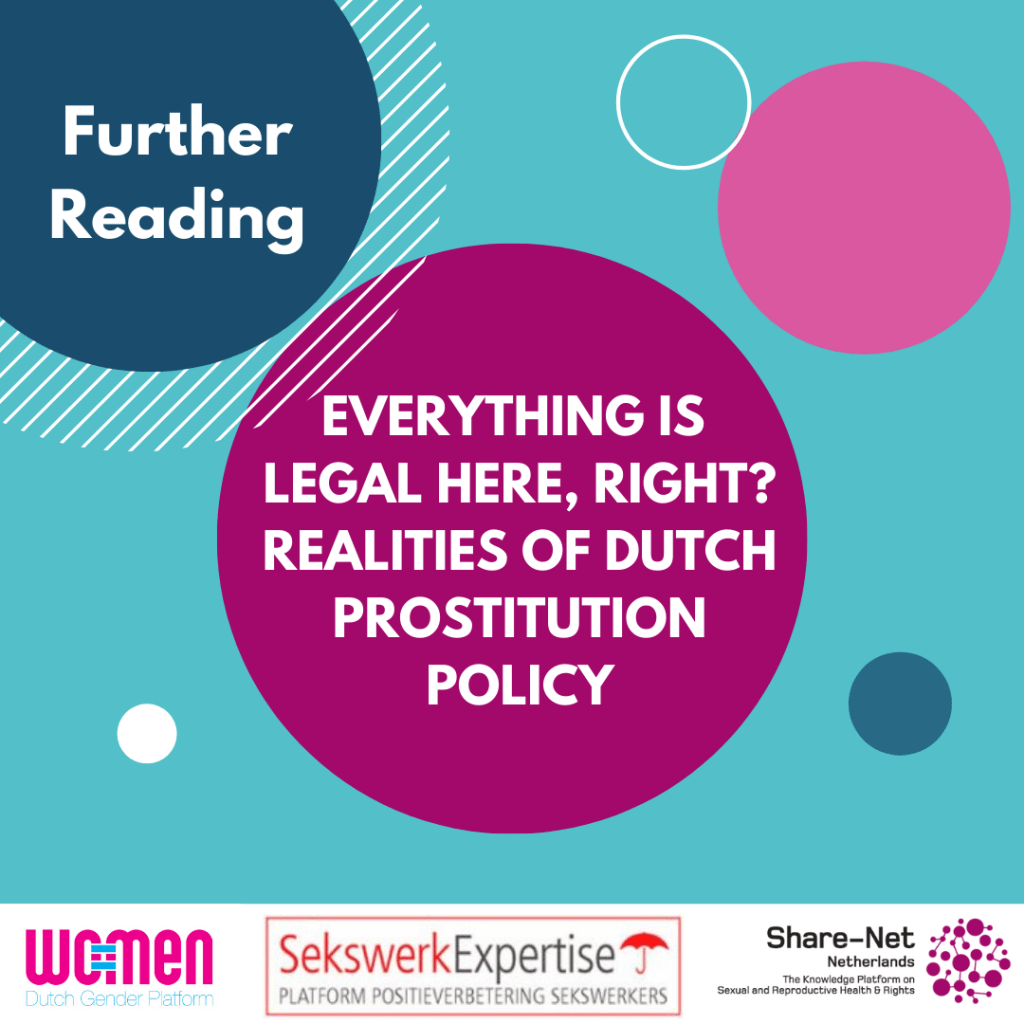 ---
On September 15 of 2021, Share-Net Netherlands, SekswerkExpertise and WO=MEN Dutch Gender Platform organised an online meeting on Dutch prostitution policy.
Looking back
Sex work is a hot topic! It is however also a complex, multi-layered issue. In this blog, Nadia van der Linde (WO=MEN) captures the main takeaways from the session with speakers Jan Visser and Quirine Lengkeek (SekswerkExpertise), activists, Lex van Delft (De Stoute Vrouw) as well as Joep Rottier (independent researcher and formerly linked to Willem Pompe Institute for Criminal Law and Criminology).
The blog will also be available in English shortly, stay tuned!
Learn more
We have put together this resource where you can find additional links to further reading.
Download the full document here.
Furthermore, there is an interesting workshop coming up soon organised by WO=MEN Dutch Gender Platform, Red Umbrella Fund and CHOICE for Youth & Sexuality:
SEX WORK AND OPPOSITION. Understanding Sex Workers Rights in International Programmes and Policy Spaces
When: 26 October 2021, 14.00 – 16.00 CET
Where: online
Language: English / Dutch (interpretation provided)
This virtual workshop ​with practical case-studies is designed for NGOs and activists in the Netherlands who (aim to) work internationally, through (development) programmes or advocacy. Information on sex work laws, policies and the sex workers rights movement will be shared and good practices discussed. What opportunities may we be missing to really make a difference? What challenges need to be overcome? How can organisations abide by the 'do no harm' principle and become better allies ​in the face of opposition?
You can register to the event via this link.
For more information, get in touch already with Nadia at n.vanderlinde@wo-men.nl
Join a community of practice on sex work
In 2021, we started a community of practice (CoP) engagement open for more members to join and boost joint knowledge sharing around the topic of sex work! This space is meant both for those wanting to actively learn and take up this topic in their work more, and those with expertise on the subject. Do not hesitate to reach out directly to Hannah Kabelka at h.kabelka@kit.nl if you're interested in getting involved!
---