Key takeaways 3rd Preparatory Meeting AIDS 2018
Posted by Kimberley Meijers on December 5, 2017 at 1:52 pm
---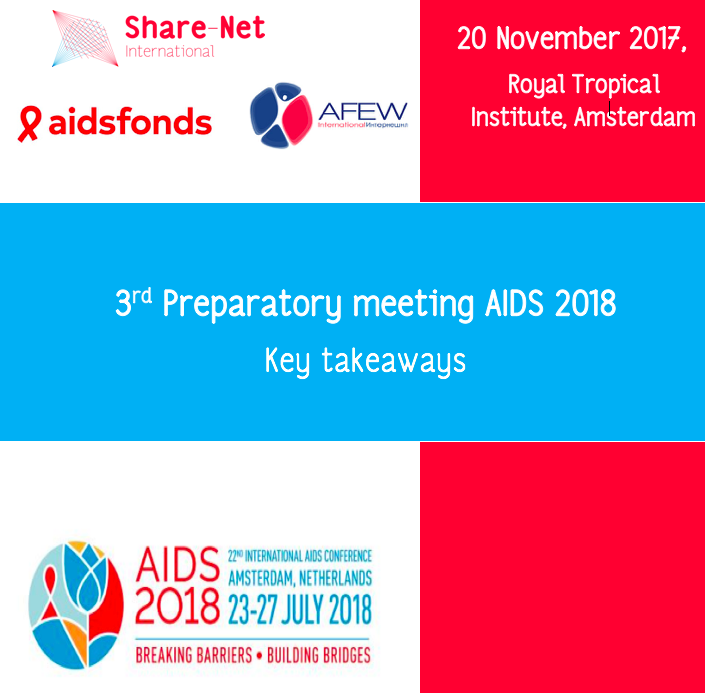 ---
On November 20th, Share-Net Netherlands, together with Aidsfonds and AFEW International, organized the third and final preparatory meeting, 'Road to AIDS 2018', for the International AIDS Conference 2018. IAC 2018 will be held from 23 -28 July 2018 at the Amsterdam RAI.
Organizing AIDS 2018
Sabrina Erne from Aidsfonds explains the structure of the different organizing bodies for AIDS 2018. The Community and Leadership Programme Committee (CLPC) and the Conference Coordinating Committee (CCC).
The Conference Programme is divided into two parts:
Scientific Programme – Scientific part
Community Leadership Programme – Non-scientific part
Plenary sessions
Every conference day will start with a plenary session. There will be one theme addressed each day. The types of plenary speakers and topics cannot be shared yet. The AIDS 2018 plenary programme will be announced in January 2018.
Submission of abstracts
Part of the programme for AIDS 2018 is formed by the CLPC and SPC.  However, there are also a lot of opportunities for submission. For instance, 12.000 abstracts will fill the rest of the programme. Especially key populations and key issues are invited to submit their abstracts. People are encouraged to submit their ideas. During most previous AIDS conferences, there was a historical gap on Mental Health. The final gaps are to be investigated after the closing date of the abstracts.
Opportunities and deadlines: presentation by Liselotte Zoetmulder, IAS
You can find the presentation here. Also, please visit the website of the IAC for more actual information.
Registration
Online registration opens on the 1st of December. Early registration ends 15 February 2018.  The early registration fee will be around 680 euros for the full week.
Visa Application
Delegates for IAC 2018 will not have to pay a visa application fee. The ministry has also allowed IAC 2018 to send information on the conference through diplomatic channels.
Abstract Submissions
The 22nd International AIDS Conference will welcome submission of abstracts for original contribution to the field in the following scientific tracks:
Track A: Basic and translational research
Track B: Clinical research
Track C: Epidemiology and prevention research
Track D: Social and political research, law, policy and human rights
Track E: Implementation research, economics, systems and synergies with other health and development sectors
Abstract submissions are accepted from1 December 2017 to 5 February 2018. Abstracts will not be accepted after this date (except for late breakers).
Late-breaker abstract submissions are accepted from 19 April 2018 to 10 May 2018.
Pre-conferences
Pre-conferences are meetings that are held for one to two days immediately before the official Opening Ceremony.The submission for pre-conferences has closed. There are some very interesting pre-conferences being developed. The selected pre-conferences will be announced on the 1st of December.
Workshops
AIDS 2018 will select about 30 high-quality, targeted workshops that will promote and enhance opportunities for knowledge transfer, skills development, and collaborative learning from public submissions through the AIDS 2018 website. The workshop submission period will open on 1 December 2017 and close on 5 February 2018.
AIDS 2018 workshops are grouped into three areas: community, leadership, and science. These areas cover a range of content and teach specific skills that can be applied within the workplace or in life settings. The primary purpose of the grouping is to guide delegates to workshops that will best correspond to their needs.
To maximize the potential of the conference, the platform in sharing experience and increasing knowledge and expertise of professionals working in HIV/AIDS, each workshop topic may be classified according to levels of experience and knowledge of the target audience. Workshops are given on three separate levels. These are very effective smaller intense meetings. Workshops are either 90 minutes or 150 minutes. Workshops can be part of the Global Village or the Main Programme. The workshops in the Global Village are less structured than the workshops which are part of the Main Programme.
Global Village & Youth Programmes
The Global Village is a diverse and vibrant space where communities gather from all over the world to meet, share and learn from each other. It intersects the main conference programme, blending scientific sessions with cultural activities, live performances, networking zones, NGO booths, marketplace booths, and art exhibits, creating a space for communities to demonstrate the application of science and good leadership. It is also a space that invites conference participants to see how science translates into community action and intervention. The Global Village is open to the general public, and conference delegates and admission is free. At AIDS 2018, the Global Village will be located at the RAI Amsterdam, forming a space over 8.000m2.
The Global Village and Youth Programme are created from public applications from diverse individuals, groups, and organizations, for a variety of activities. If you are interested in submitting a Global Village and Youth Activity, please note that the submission period opens on 1st December 2017 and closes on 5th February 2018. Submitters will be informed before the end of March.
For the global village and Youth Programmes, people are invited to think out of the box. It is the favorite space of a lot of the visitors to the conference. There are up to 10 different networking zones and organizations can apply. Networking Zones are spaces where local and international groups can meet and focus on thematic areas. In these zones, groups can conduct their activities and engage delegates and the public visiting the Global Village
The networking zone comes furnished. It depends on applicant how the networking zone will be used. Events every half hour will be very intense. It can also be a more calm and relaxing zone. Decoration and furnishing are at the expense of the appliers. The networking zones are open from 10 – 18 hrs. Every day and should also be staffed. There are no additional resources. AIDS 2018 recommends getting volunteers.
The best thing is to apply for a bigger room. Distances at the RAI are rather significant.
The Global Village and Youth Programme are not paid.
Satellite Sessions & Exhibition Space
Satellite symposia provide your organization with a unique opportunity to showcase your work in a setting that will offer you an exceptional exposure to the world's leading HIV professionals. Though taking place in the conference center, satellite symposia are fully organized and coordinated by the organization hosting the satellite. For the Satellite Session, you buy space within the AIDS 2018 programme. Applicants can do whatever you want as long as their session fits the objectives of AIDS 2018. There is space for 130 satellite sessions. If you consider applying for a satellite room be sure to apply in time! Satellite applications are accepted from December 1st till April 2018.
The total exhibition space will cover more than 10,000 square meters. It is possible for individuals and organizations to rent space. Spaces start around 15 square meters, and prices will be on the website soon. Exhibition applications are accepted from December 1st, 2017 till April 9th, 2018.
Scholarships
AIDS 2018 tries to get around 1500 people to the conference via scholarships. It depends on a case by case basis what is paid and what is not paid. Part of the scholarships is reserved for persons that submitted a successful abstract. Applicants will be informed by April.
Affiliated Independent Events
These are events in the run-up or during AIDS 2018 connected to the topic. Usually, these events take place 2-3 months in advance. AIDS 2018 offers to promote these events as part of the more extensive conference programme. There will be a list of affiliated events. Delegates are usually very interested to visit different organizations. Applying for an affiliated event is free of charge.
Selection of Third Party of Logo's
There are different types of logos. Supporter and in support of AIDS 2018 are for free usage.
Amsterdam Planning Group
The Amsterdam Planning Group partners with different organizations to organize activities like cultural events. Usually, there is a big demonstration or march. Activities and a possible booth representing the Dutch Approach and other topics are still topics of discussion for the Amsterdam Planning Group.
Themes
At the 2nd preparatory meeting brainstorm groups were formed who formulated several joined ideas for activities before or during the conference. During this meeting, the groups were invited to inform us about the progress.
HIV Funding Gap – Frank Roijmans, i+solutions
Frank developed a document together with Douglas Call (PSI Europe). In this document the funding situation is analysed and any efficiencies that could be incorporated are identified to get as much value for money as possible. Besides, the document has information about the Global Gag Rule. The document will be spread when available.
Amsterdam Youth Force – Anne Devereux
The Amsterdam Youth Force has been busy with formalizing its structure for operation. AFEW is possible going to host the Amsterdam Youth Force. The kick-off event is planned on the 30th of November. The Amsterdam Youth Force will be present during the 1st of December Conference of Aidsfonds. Lotte Dijkstra is writing a policy paper. The Amsterdam Youth Force is in contact with a lot of organizations around the world and is looking for partnerships. The Youth Force wants to expand their reach within the Global Village. They have not yet discussed being part of the main programme of AIDS 2018. For Aidsfonds, youth is also an important topic. Aidsfonds is planning a satellite session on this topic.
Group Harm Reduction – Katryn Schiffer, De Regenboog Groep/ Correlation Network & Machteld Busz, Mainline
Regarding harm reduction, the group has applied at Aidsfonds for funds to build a replication of a drug consumption room at AIDS 2018. The group is thinking about applying for a Harm Reduction Networking Zone. Hosting a networking zone costs a lot of time and human resources. We would like to open it up as much as we can. Maybe Mainline can involve the Amsterdam Youth Force to volunteer in the space. One of the reasons the conference came to Amsterdam is the free and liberal context. Methadone should be available. Scholarship programmes are necessary if we want to involve drug users in the Global Village, but we should also include them in the overall programme.
One more idea is that Rainbow is organizing guided city tours. This could also be incorporated as so-called engagement tours where delegates can visit different venues like clinics. These engagement tours are very structured. Another possibility is to apply to list the guided city tours as an affiliated event.
Key Populations – Christina de Vries, Cordaid
This was a very ad-hoc group. The question that is central in this group is: How to reach the last 10%?  After the 2nd preparatory meeting, there were phone calls and email exchanges. However, it is difficult to come to one concept, because approaches used by various organisations are very different. Some ideas are:
– Cordaid would like to involve international partners. Which actors can be linked together? It is difficult for Francophone and Anglophone people to network and build partnerships. Cordaid would like to focus on Francophone Africa besides Eastern Europe and Central Asia. There is usually a French-speaking networking zone at the conference. For young people who have no formal labor, it is difficult to convince the IND to let them in.
– ICCO and CARE international are planning to have a meeting before the conference about managing of AIDS programs on district levels
Other initiatives
In addition to what the groups have developed during the past months, some organizations explained their plans for AIDS 2018.
Jan van Esch gives a presentation about the Culture Initiative fund from Afew International. The Culture Initiative is aimed at bridging the gap and stimulating cooperation between Western countries and countries in Eastern Europe and Central Asia (EECA).  Please find the here presentation .
Aidsfonds is organizing two side/affiliated events. One of them focuses on international programs and the role of the communities. It will take place the Monday before the opening session of the conference, and it will be announced soon. The second one targets Dutch professionals and will be about PrEP. If someone is working on the same thing, please contact Aidsfonds to work together.
Rutgers has submitted abstracts for two pre-conference events. The first one is related to the Global Gag rule and the second one is about comprehensive sexuality education. The Global Gag rule will be integrated into the community sessions from Aidsfonds. Women Deliver is also interested in engaging with this topic, the Global Gag Rule.
Dance4Life is organizing a concert which will take place in May and a marketing campaign to inform the general public. Finally, they ask if there are any plans for a combined campaign to represent the Netherlands.
Afew is supporting and training people for abstract submission throughout e-learning courses, trainings and tutorials. In addition, they are building the "Language Buddies" pool to help EECA delegates navigate during AIDS 2018. You can learn more about their programmes here.
Finally, Share-Net will prepare a special Newsletter with all the information and events related to the AIDS 2018 Conference. Also, please contact us at info@share-net.nl if you want to share information and want to connect to certain initiatives.
---