Webinar report: Digitalisation of HIV&SRHR interventions for young people
Posted by Hannah Kabelka on November 30, 2020 at 3:21 pm
---
---
The need for social distancing in light of COVID-19 has led to an unprecedented increase in reliance on digital technology. Many organisations have migrated to digital options in their operations. Employees are already working fully remotely.  Therefore, on November 25th, Share-Net Netherlands organised a virtual meeting that addressed the remaining question about to what extent we have we been effectively able to digitalise our interventions on SRHR/HIV to reach young people.
Webinar report
Under the title "Digitalisation of SRHR/HIV Interventions for Young People: Challenges, Barriers & Success Stories", contributors from Trainers4Life, UNAIDS, the Teenergizer movement in the Ukraine and Love Matters Mexico discussed their related challenges, barriers and success stories.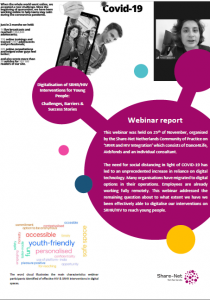 Download the full webinar report summarising the main takeaways from the meeting.
(Re-)visit the presentations
The recording of all presentations from the virtual meeting can be accessed via the link below:
00:00:00 Welcome and Introduction By Share-Net Netherlands and Sajan Shrestha (Nepal), Trainer4Life
00:02:00 Digitalising interventions on SRHR and HIV for young people in the EECA region By Elena Kiryushina (Russia), Youth Officer at UNAIDS and
00:13:52 By Yana Panfilova (Ukraine), founder of the Teenergizer movement
00:25:56 Exercise to experience a digital intervention By Muneeb Arshad (Pakistan) and Sajan Shrestha, both Trainers4Life
00:51:20 Q&A with Elena Kirzushina
01:09:17 Digitalising interventions on SRHR and HIV for young people in Mexico By Idana Rodas Pulgar (Mexico), Coordinator for Regional Love Matters
01:36:04 Closing by Kari Postma (Dance4Life and organizing CoP members)
The HIV & SRHR Integration CoP is looking for new members
This meeting was hosted by the Share-Net Netherlands community of practice (CoP) working on HIV & SRHR Integration . If you are interested to get in touch with the group, feel free to contact us directly anytime.
---